Description
The Motif BiliTouch™ phototherapy blanket is a biliblanket designed by healthcare professionals to treat newborn infants diagnosed with jaundice (hyperbilirubinemia). This portable, convenient phototherapy treatment device allows your patients to continue to hold, feed, and care for their baby while reducing high bilirubin levels at home.
Convenient, ultra-portable phototherapy treatment with battery-powered option
Patient-centered, lightweight design facilitates bonding with newborn infant
LED light source, no fiber optic cables for easy positioning
Key Features
Promotes mother and baby bonding
Whisper-quiet operation
Battery powered, light weight, ultra portable
LED light source, no fiber optic cables
Multiple light intensity levels
Adjustable shut-off timer
Wrist strap for safe carry
Designed for continuous operation
---
Motif BiliTouch™ Biliblanket Features
The Motif BiliTouch™ is a versatile biliblanket phototherapy device with an LED light source to conveniently treat jaundice in the hospital or at home. Jaundice refers to high levels of bilirubin in the newborn infant's red blood cells, which leads to a yellowing of the baby's skin and eyes. Unlike conventional phototherapy systems that are stationary, the BiliTouch™ is designed to be mobile.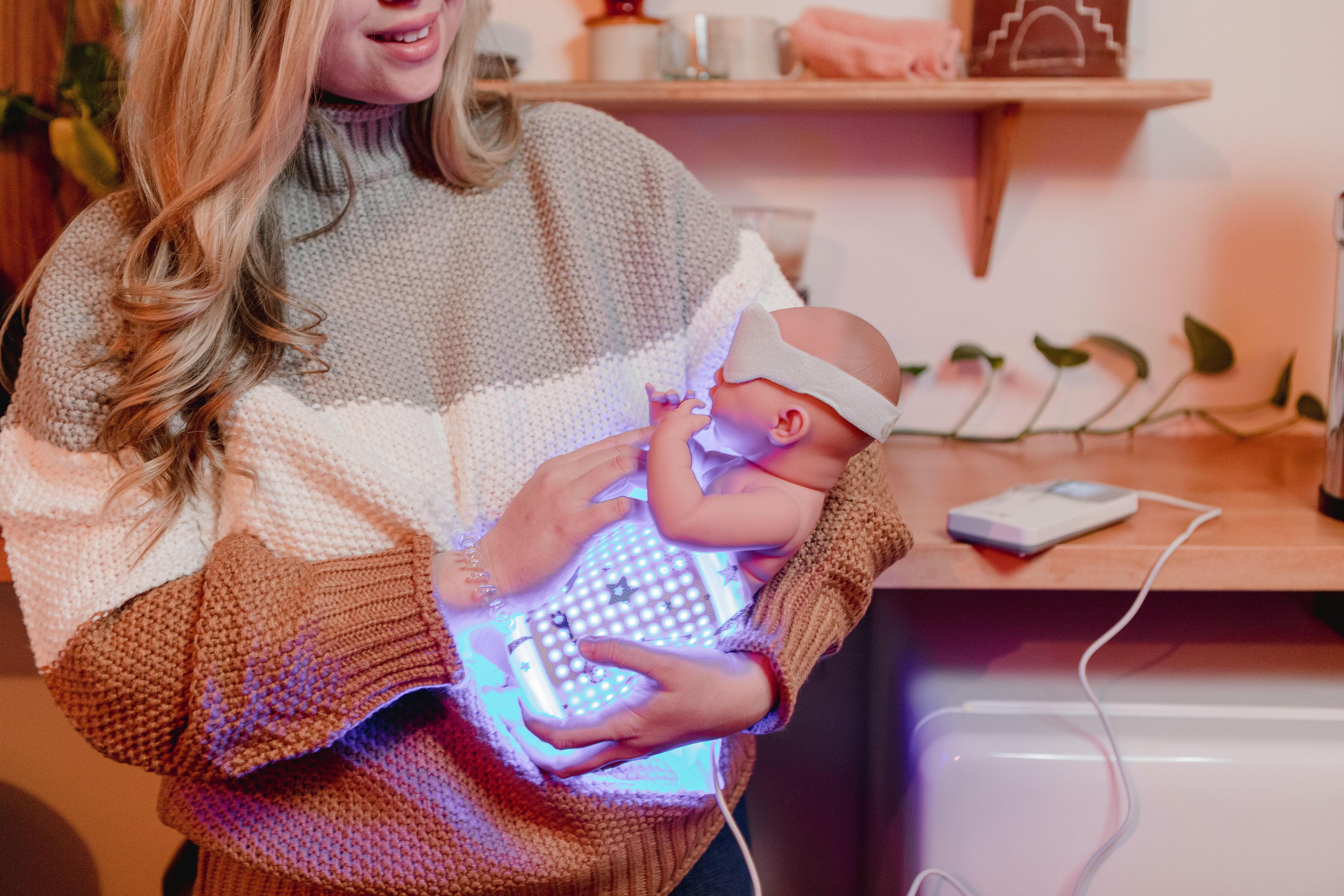 ---
Using the Motif BiliTouch™
When a newborn infant is diagnosed with jaundice and prescribed phototherapy treatment, it's important to provide new parents with a clinically proven device that is easy to use. The Motif BiliTouch™ offers a temperature sensor and an LCD display that clearly shows adaptor and battery status, remaining time, and light intensity. Operation is whisper quiet, featuring an LED light source and battery option for mobility. The result is a superior phototherapy treatment device that can be used in a variety of settings, going from hospital to home and fitting seamlessly into the newborn infant's care.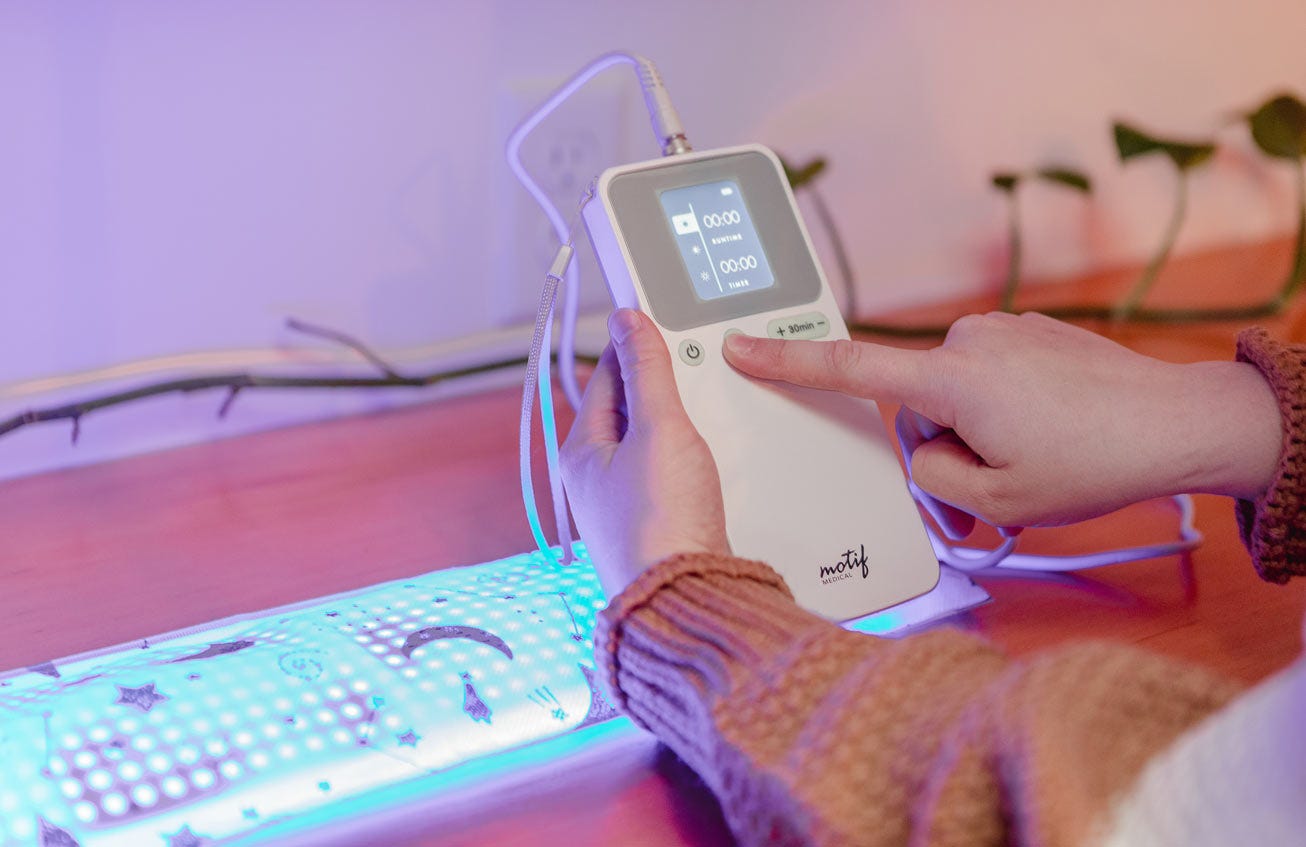 ---
Non-invasive Treatment of Neonatal Jaundice
Phototherapy has been recognized by healthcare providers and pediatricians as the gold standard in non-invasive treatment of neonatal jaundice for over thirty years. The treatment is applied by exposing the baby's skin to blue light waves, which help to break up high levels of bilirubin in the baby's blood. This quickly and safely reduces the yellowing appearance in baby's eyes and skin. Phototherapy treatment eliminates the risk of harmful UV exposure associated with sunlight. The Motif BiliTouch™ provides multiple levels of light wave intensity, or irradiance. Newborn infants can undergo phototherapy treatment continuously if recommended by healthcare professionals, until yellow pigment in the skin and eyes is resolved and bilirubin levels reduced to levels deemed safe by the American Academy of Pediatrics.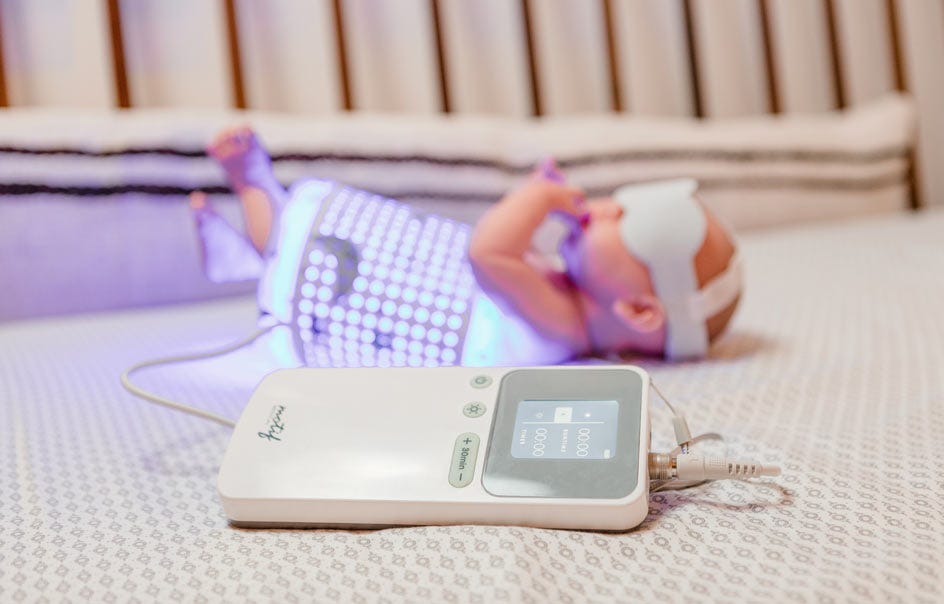 ---
Advances in Phototherapy
Hospital treatment of hyperbilirubinemia typically involves an undressed baby being placed under a stationary halogen light source or illuminator as healthcare providers monitor his or her condition. Advances in technology have led to the development of portable phototherapy devices, which can be used without physical separation from the new parents. These innovative devices ensure that dangerous levels of bilirubin can be treated as the baby is fed, held, clothed, diapered and cared for at home.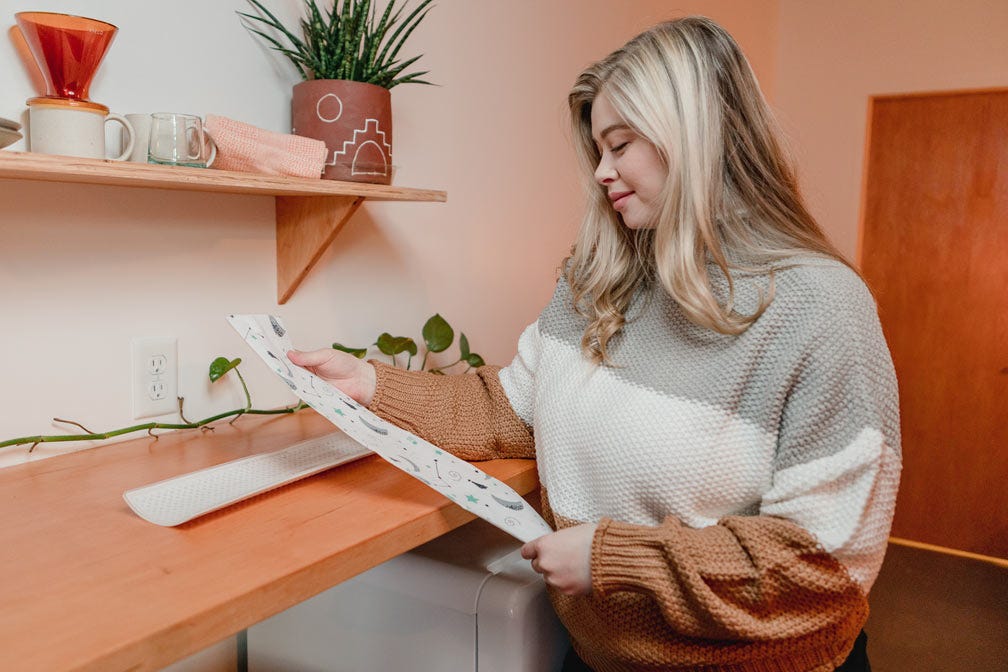 ---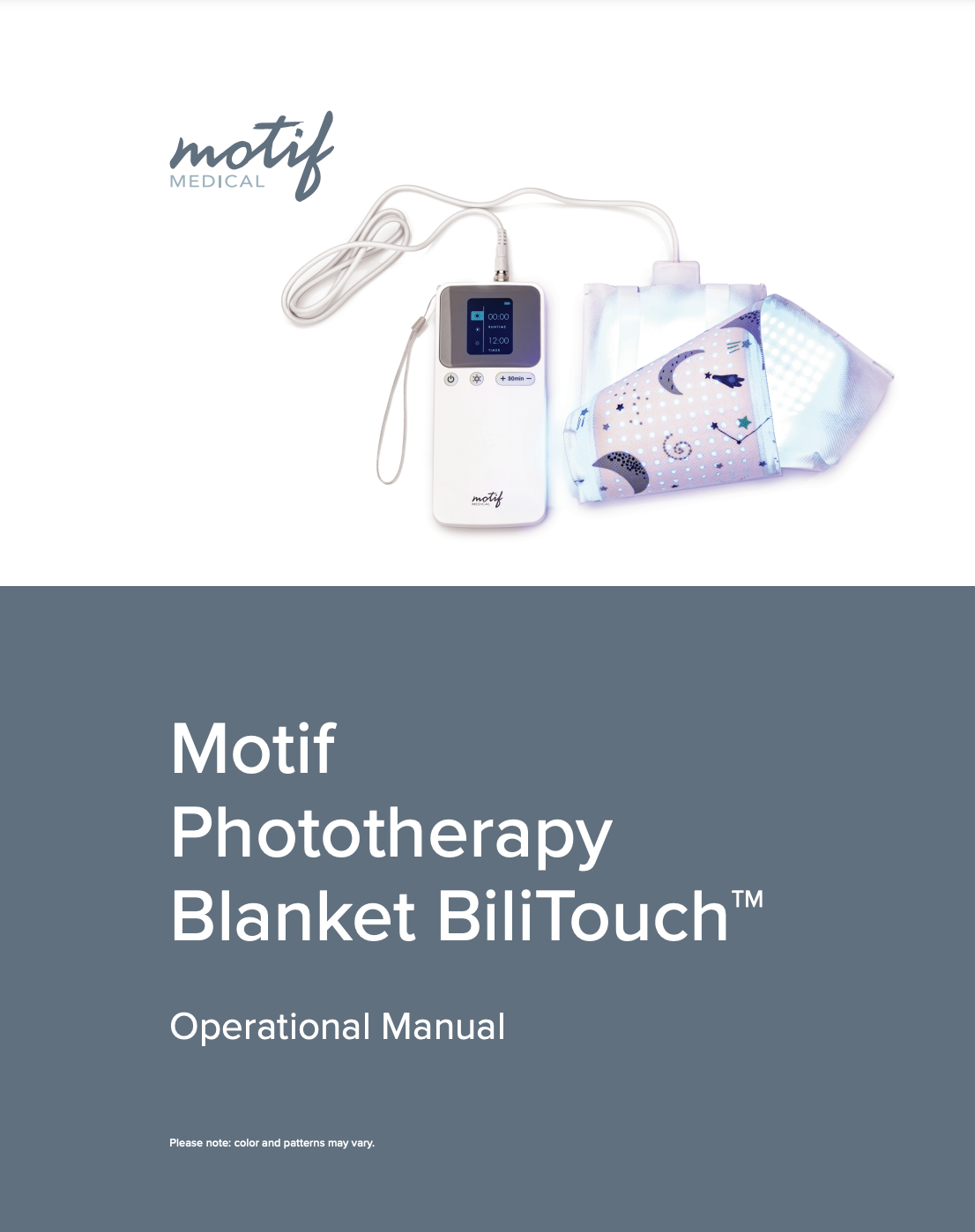 Product Manual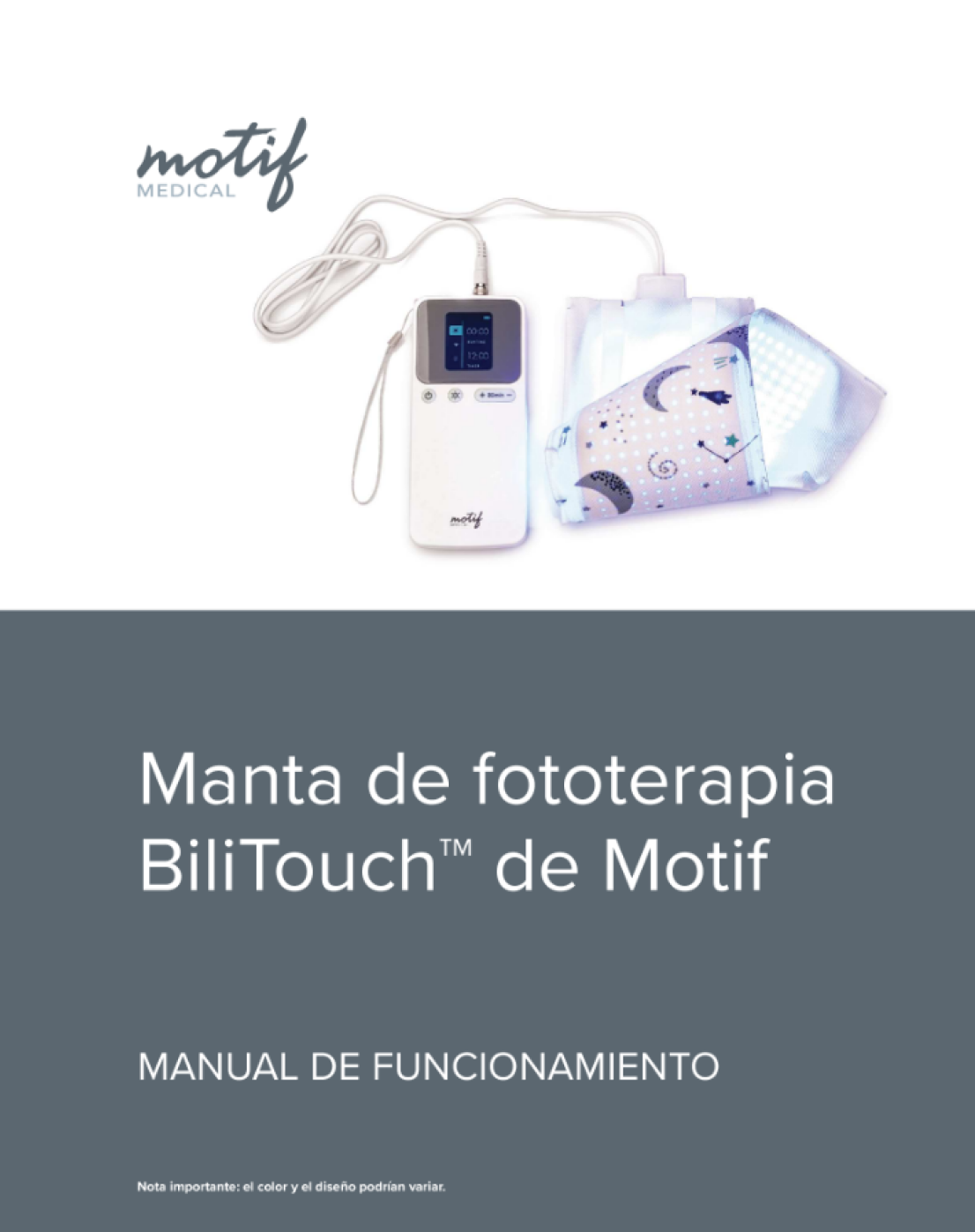 Product Manual – Spanish
---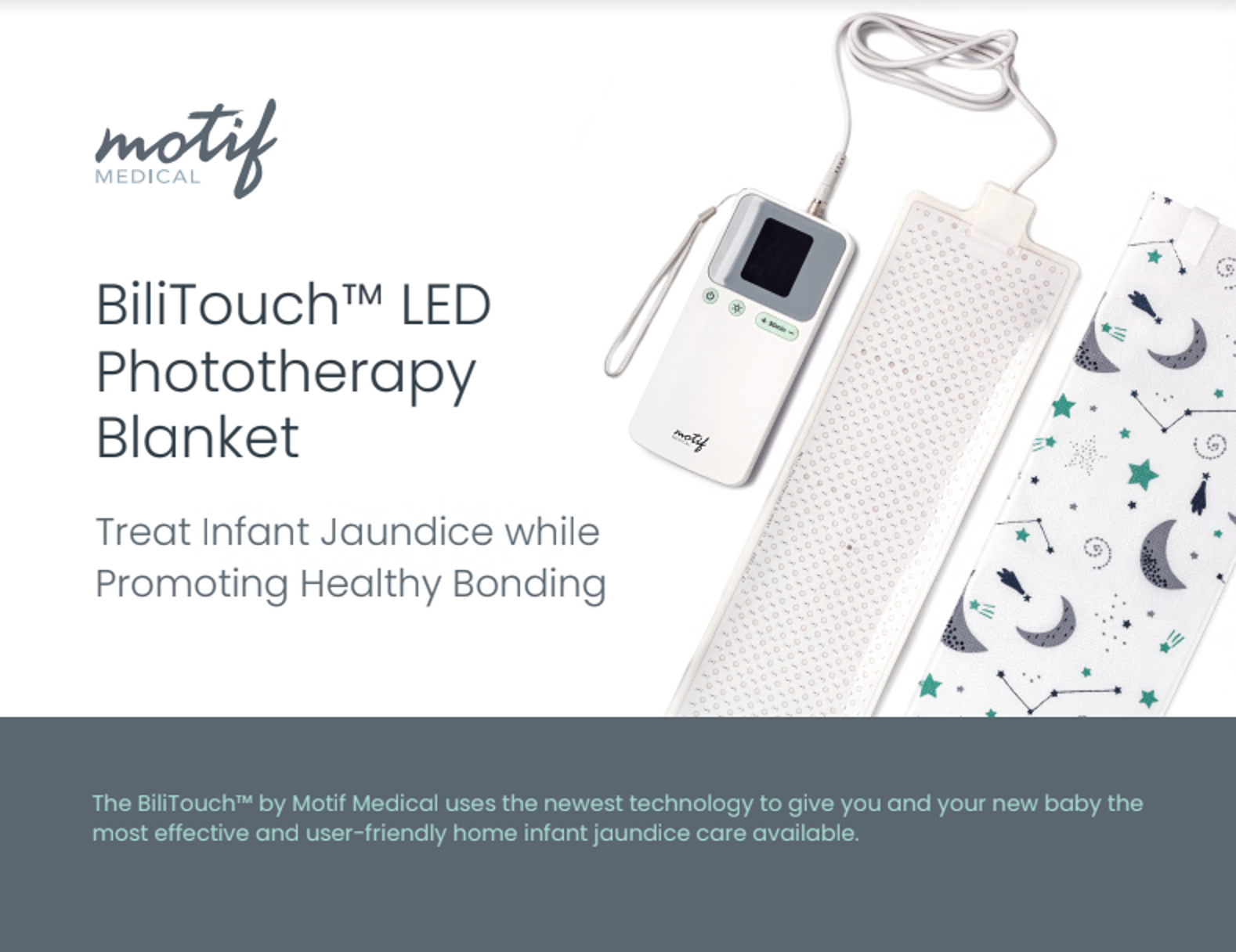 White Paper
References
Renee Flacking, Liisa Lehtonen, Gill Thomson, Anna Axelin, Sari Ahlqvist, Victoria Hall Moran, Uwe Ewald, Fiona Dykes. "Closeness and Separation in Neonatal Intensive Care". Acta Paediatr. Oct 2012. 101(10)" 1032-1037.
Subcommittee on Hyperbilirubinemia. Management of Hyperbilirubinemia in the Newborn Infant 35 or More Weeks of Gestation. American Academy of Pediatrics. http://pediatrics.aappublications.org/content/114/1/297.full
Jaundice and hyperbilirubinemia in the newborn. In: Behrman RE, Kliegman RM, Jenson HB, eds. Nelson Textbook of pediatrics. 16th ed. Philadelphia: Saunders, 2000:511-28.
Pilyoung Kim, Ruth Feldman, Linda C. Mayes, Virginia Eicher, Nancy Thompson, James F. Leckman, James E. Swain. "Breastfeeding, brain activation to own infant cry, and maternal sensitivity" Journal of Child Psychology and Psychiatry. Pages 907-915. August 2011;
Harold M. Maurer. Clare N. Shumway. David A. Draper. Ali A. Hossaini. "Controlled trial comparing agar, intermittent phototherapy, and continuous phototherapy for reducing neonatal hyperbilirubinemia" The Journal of Pediatrics. Volume 82, Issue 1, Pages 73-76. January 1973.
Tan K. L. "Phototherapy for Neonatal Jaundice. Clin Perinat. 1991; 18: 423-439;
FF Rubatelli, V Zanardo B Granati. "Effects of various phototherapy regimens on bilirubin decrement" PEDIATRICS Vol. 61 No. 6 June 1, 1978 pp. 838-841
Stephanie D.P. Wentworth. Neonatal Phototherapy – Today's Lights, Lamps and Devices. http://www.neonatal-nursing.co.uk/pdf/ inf_001_tll.pdf. Retrieved May 2014.
"Facts about Jaundice and Kernicterus" Center for Disease Control and Prevention. http://www.cdc.gov/ncbddd/jaundice/facts.html. Retrieved 21 May 2014
KL Tan, KW Boey. Efficacy of Phototherapy in Non-haemolytic Hyperbilirubinemia. British Medical Journal. Volume 293. 22 No vember 1986. 1361-1363.
Ennever J. F. Phototherapy for Neonatal Jaundice. Polin RA and Fox WW, ed. Fetal and Neonatal Physiology 1992. 112: 1165-1173. Philadelphia: WB Saunders.
"Newborn Jaundice" MedlinePlus. http://www.nlm.nih.gov/medlineplus/ency/article/001559.html. Retrieved 21 May, 2014
Practice parameter: management of hyperbilirubinemia in the healthy term newborn. Pediatrics. 1994;944 pt 1:558-62.
Shapiro SM. Chronic Bilirubin Encophalopathy: Diagnosis and Outcome. Semin Fetal Neonatal Med. 2010. Jun;15(3)" 157-162.
Maisels MJ, Newman TB. Kernicterus in otherwise healthy, breast-fed term newborns. Pediatrics. 1995;964 pt 1:730-3.
Motif BiliTouch Flyer

Motif BiliTouch Quick Guide

Motif BiliTouch Spec Sheet