Description
Lightweight and compact, the X-PLOR® is ideal for patients who want to replace their heavy oxygen tanks without missing a moment. The X-PLOR is also Bluetooth®-capable and can be connected to your mobile device through Belluscura's newly developed Nomad Biometrics™ App. With a rechargeable battery, easy-to-use interface, and high oxygen output, supplementary oxygen has never been more approachable or affordable.
Included:
X-PLOR® Unit
8-Cell Battery
User-Replaceable Sieve Bed Cartridge
Air Intake Filter
AC Power Adaptor
DC Power Adaptor
Carry Bag With Handle & Shoulder Strap
Description
Pulse and No Breath Detection mode Portable Oxygen Concentrator. The X-PLOR weighs 3.75 lbs*, with a lightweight design that is perfect for patients looking to replace their heavy, metal oxygen tanks and live a more mobile, active lifestyle.
Belluscura's patented, award-winning ModulAir® technology integrated with their proprietary ultra-rapid processing and consumer-replaceable sieve technology allows them to make smaller, smarter, and more efficient oxygen concentrators, resulting in reduced costs and broader potential treatment options.
The Nomad Biometrics™ mobile app tracks your X-PLOR oxygen concentrator unit's oxygen purity, battery life, alarm history, and battery cycle. It is Bluetooth®-compatible with an easy-to-use interface. By downloading the Nomad Biometrics app, you can enjoy the experience of oxygen therapy on the go. Available in the iOS store and Google Play.
X-PLOR is FAA compliant, meaning it is just as safe and easy to travel with as it is reliable!
*Weight with battery.
Features
Oxygen output 82%-92% purity
User-Replaceable Sieve Bed Cartridge
Airgonomically™ Designed to be lightweight and compact for easy travel
Long-Lasting, Direct Charge Battery: Up to 4.5 hours of use when fully charged
Pulse flow settings 1 through 4 delivering 215 to 750 ml/min
No Breath Detected (NBD) mode is a battery-saving mode that runs at Auto-pulse15 BPM at the units current setting
FAA Compliant
Specs
X-PLOR has 4 pulse flow oxygen settings delivering 215-750 ml/min as well as the auto pulse No Breath Detection mode that delivers oxygen at 15 BPM on the units current setting. The X-PLOR is designed for both indoor and outdoor use.
Setting 1
Setting 2
Setting 3
Setting 4
Total Volume Per Minute (mL/min)
215
425
635
750
No Breath Detected Mode
15 BPM Auto pulse
Metrics
Dimensions: 7.3 in x 2.9 in x 7.6 in (18.5 cm x 7.4 cm x 19.3 cm)
Weight: ≤ 3.75 lb (1.7 kg)
Auditory Output: < 39 dB(A) at Level 2
Charge Duration: ≤ 4.5 Hrs
Charge Time: ≤ 6 Hrs
Accessories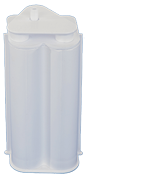 X-PLOR® User-Replaceable Sieve Bed Cartridge
RES50073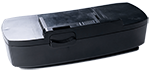 X-PLOR® 8-Cell Battery
RES50188

X-PLOR® DC Power Adaptor
RES53012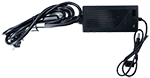 X-PLOR® AC Power Adaptor
RES53011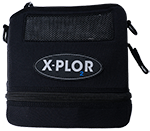 X-PLOR® Carry Bag
RES52191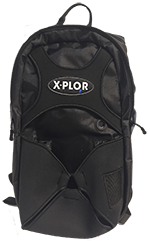 X-PLOR® Backpack
RES52291