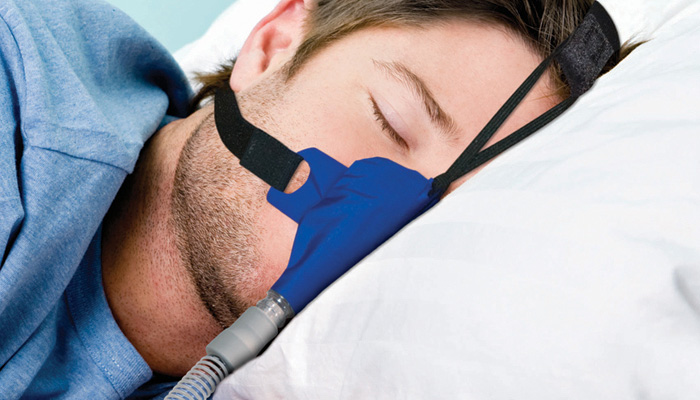 We've been long-time fans of the SleepWeaver masks here at Sunset Healthcare Solutions. In fact, the Advance is one of our top-selling CPAP masks and the newer Élan is not far behind. If you haven't tried them yet, here's a list of our Top 10 reasons to consider them.
More sleep positions – because it's made of cloth instead of hard plastic, patients can sleep on their back, side or stomach without rigid buckles, hard clips or faceplates digging into their skin. Cloth mask users report waking up in the middle of the night and wondering if it is still on their face, only to find it gently resting in place.
The cloth material inflates like a balloon that pushes gently against the patient's face to form a seal. Because it's fabric, it can match the contours of any patient's face to reduce leaks. The material also works to wick away moisture, reducing rainout.
For customers who complain about their conventional hard plastic CPAP mask leaving behind ugly and uncomfortable red marks, this mask is a great alternative.  Made almost entirely of soft, wicking material, this mask adds comfort, minimizes skin irritation and strap marks.
The new Élan comes with a regular and large cushion to better fit a wide variety of patients. Also included in the kit are a feather weight tube and tether strap.
Both masks can be comfortably worn while wearing glasses, no bulky T-bars, so you provide your customers with the nasal mask with a view! Patients will enjoy a clear line of sight, great for people who are claustrophobic.
Patients can personalize their mask with five fun colors and fashionable prints: Leopard, Camo, Pink, Tan or Blue.
Less noise – the masks are designed with new, smaller exhalation holes that diffuse the air to eliminate noise upon exhalation. This provides a quieter night's sleep for the patient and their bed partner.
Both masks can be easily cleaned by hand washing with a mild non-abrasive detergent. If needed, they also can be disinfected and reprocessed to be used between patients in a hospital or sleep lab setting.
Both masks come with a 90 day warranty and 30 day risk-free money back guarantee. If you aren't happy with it, contact your Sunset rep and we'll send your money back. There's no excuse not to try.
You don't have to just take our word for it, try it yourself and see why 12% of all nasal CPAP users on cpap.com have made a switch to the cloth mask.