Description
ZeniABSORB Super Absorbent Dressing is a non-adhesive, sterile dressing for use on heavily draining wounds. The triple layered construction consists of an air permeable and waterproof non-woven layer, a super absorbent pad layer and a hydro-penetrating non-woven layer. ZeniABSORB is designed to facilitate fluid management to promote an optimal moist wound environment which leads to the promotion of faster wound closure. The absorbent pad provides superior absorption and locks drainage away to minimize the risk of maceration and damage to the peri-wound skin.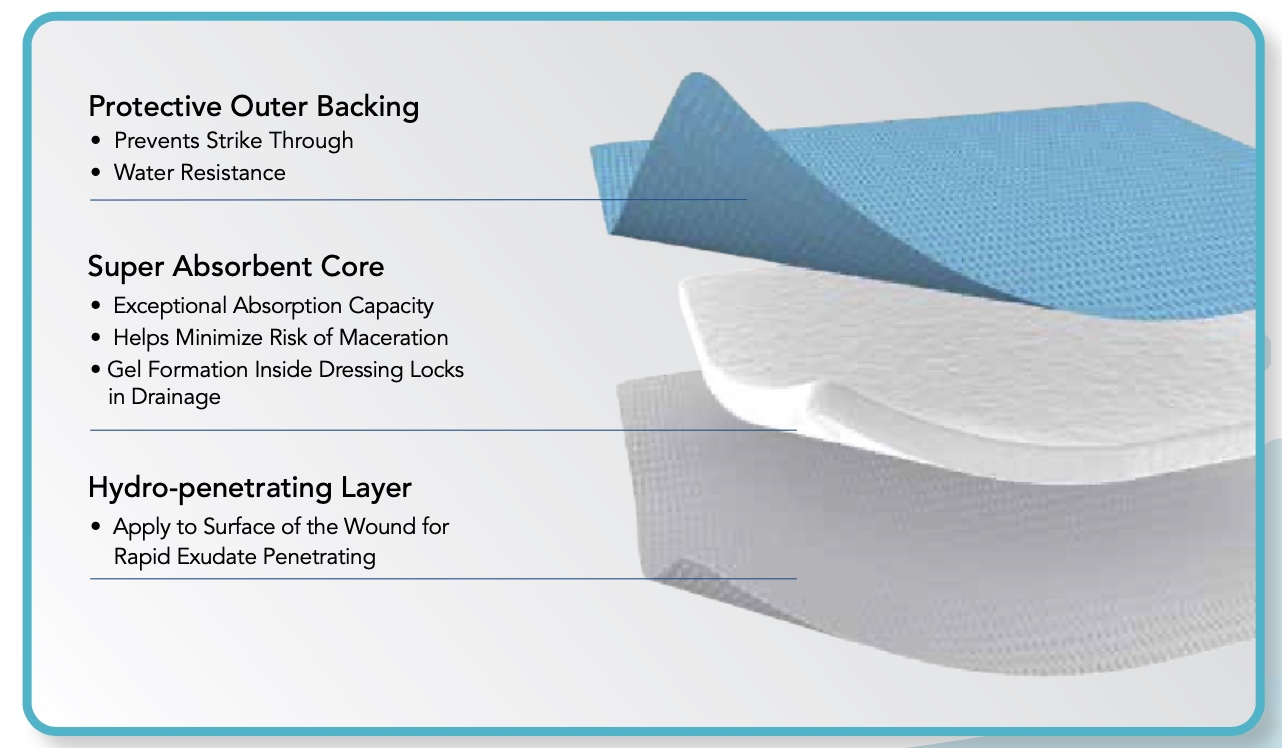 Features
Super Absorbency
Non-Adherent to Wound Bed
Breathable, Waterproof Backing Prevents Strike Through
Available in Multiple Sizes
Protects Against Maceration
Can be Repositioned After Application
Gentle on Sensitive and Fragile Skin
Non-Adhesive
Used as Primary or Secondary Dressing
Highly Conformable and Comfortable
Easy Application
Indications for Use
Pressure Ulcers
Diabetic Ulcers
Leg Ulcers
Surgical Wounds
Moderate to Heavily Draining Wounds
Contraindications
Do not use ZeniABSORB Super Absorbent dressing on dry or low exuding wounds, eyes, mucous membranes or in wound cavities because the dressing swells during absorption.
Do not use on third–degree burns.
Do not use if a known allergy or hypersensitivity exists to the dressing or its components.
Warnings
ZeniABSORB is single use only. Do not reuse.
Do not use the dressing if the sterilized packaging is damaged or open.
Do not cut the dressing. The cover must remain intact.
Storage
Store the product in a cool, dry place and avoid light.
HCPCS
| | | | | |
| --- | --- | --- | --- | --- |
| | | | | |
| | ZeniABSORB (Super Absorbent, Non Adhesive) | 4″ x 5″ Overall, 3″x4″ Pad | | |
| | ZeniABSORB (Super Absorbent, Non Adhesive) | 6″ x 9″ Overall, 4.8″x7.8″ Pad | | |
* Providers are responsible for determining appropriate billing codes for Medicare Program Claims. This information is included for convenience and is not intended, nor should be considered billing advice.
Use and application tips
ZeniABSORB Super Absorbent Dressing is used to provide maximum absorption from heavily draining wounds. The white side of the dressing faces the wound. ZeniABSORB does not have an adhesive border and must be secured in place with another dressing such as gauze or as directed by your medical provider. Do not cut ZeniABSORB dressing. The cover must remain intact.